End Table
Pear Veneer, Ebony Inlay
342 x 636 mm
Jeff Hohner, 2001
in the collection of the maker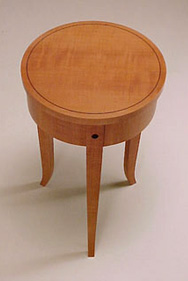 I designed this three legged table in the style of Biedermeier furniture. This style of furniture was made in Vienna during the first half of the nineteenth century. It was popular with the Austrian bourgeoisie because it reflected the conservative values of hearth and home. In its day, collectors scorned it as simple and unsophisticated; but today, the style has become popular.
Of all furniture styles, I especially like Biedermeier. Does that makes me middle class? I guess it does. I also like Modernist furniture, but I often find it too rigorous in its simplicity: doctrinaire. The clean lines of Biedermeier appeal to my modern tastes but at the same time offer a relaxed, unpretentious alternative to the starkness of Modernism.
I also designed this piece to explore traditional furniture making to the hilt. The legs were veneered using the centuries old method of heating animal glue and 'hammering' the veneer in place. With the inlay, I tried to blend the traditional (Biedermeier often featured ebony) and the contemporary (as far as I know, Viennese craftsmen did not inlay dots). To complete the process, I finished the piece with shellac, the finish that was historically used on this type of furniture.